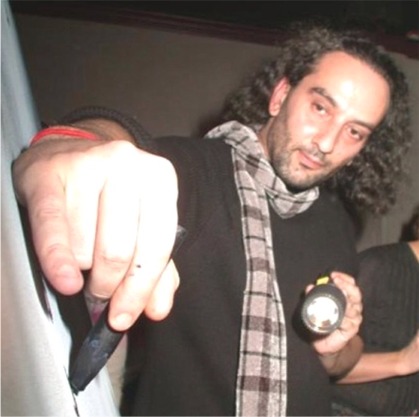 BIO



Poul A. Costinsky was born in former USSR, in city of Lvov, on the border with Poland. He finished Lvov's art school, class of painting, in 1982. Later he moved to Moscow, where he participated in then underground art scene.


In 1998, he moved to Seattle, and inspired by city's artistic energy, started new series of paintings, which culminated in his first show on American soil, in Pitcairn Scott Gallery, in April 2002. Since then he regularly shows in the gallery and various other venues in Seattle. His art can be found in private collections all over the world.


At some time, trying to convince public and critics that he is not representative of "bold surrealism from behind Iron Curtain" (from Stranger's art review), he half jokingly invented new art movement, called polyrealism. It stuck, and now is the name of this web site.


He mostly paints oil on canvas, but sometimes uses other media like Japanese ink on paper, acrylics, spray paints, and even photo camera. His art reflects on human condition in our hectic age, the nature of beauty of body, soul and nature around us.


His art credo comes as a quote from a Russian writer Leo Tolstoy, who, once asked how to become a real artist, answered: "if you can help it, don't".



Interview with Poul by "
A Girl On A Mission TV
. Originally aired on November 7, 2009 on Comcast 77.
Poul is represented in seattle by
Pitcairn scott gallery
.
Art news are published in his blog:
www.livejournal.com/users/liberpolly/tag/art
; substribe to RSS feed here:

.
Also, check out the site of his girlfriend, An-Magrith Erlandsen, amazing artist on a quest to paint a full Tarot deck:
tarotofthepomegranate
.
This is a poem by seattle poet David Jones. It's the best poetry i can associate with my art...


Posted with permission of the author.


Painters of Life


They stand
Before blank canvases
They are the tools
That gods use to create new realities
Those first strokes
Sweeping away the banality
Of stereotypical
Perceptions
They envision scenes
Which haunts their nights
And kidnaps their waking hours
They must give birth to visions
That embody both
Divinity and profanity
Obsessed men and women
Who sacrifice themselves
For the sake of their muses
Their abodes have many rooms
Some beatific and others horrifying
Each different
As individual as the strokes
Of their brushes
In the caverns of their dreams
They lose themselves
Lying prostrate
Before the masters and mistresses
Of their nether worlds
There is no cost too great
Nor is time of the essence
In their delirium
They transcend both
Scenes come forward
That we vaguely recognize
Familiar like the mirror
We fear to gaze upon
But which we must observe
If we are to recognize ourselves


DJones 4/23/05